Learn to use plastic injection molding simulation!
Learn how to use cutting-edge injection molding simulation, in our Plastic Injection Molding Simulation Bootcamp.
The Bootcamp is a quick and condensed way to learn the basics, so that you're ready for your first simulation projects!
Bootcamps are interactive online courses. Our seasoned instructors will show you the fundamentals and answer your questions!

It's easy to get started with CADMOULD simulation! In this video, you can see how easy it is to set up a filling simulation in less than a minute!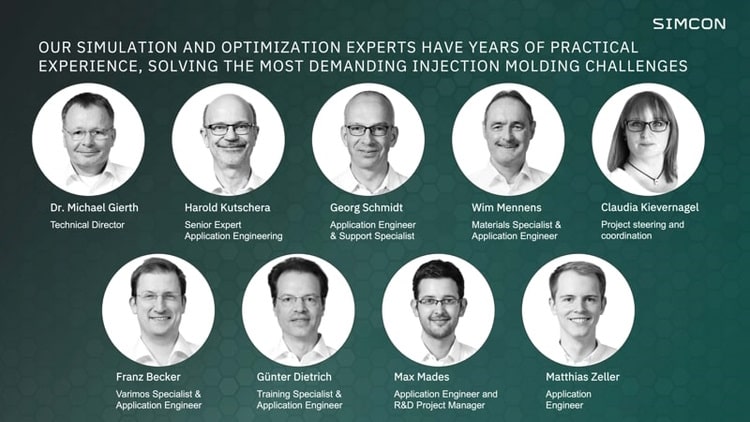 Our application engineering team will help you to get started with plastic injection molding simulation, based on decades of experience!
Why learn to simulate?
Avoid surprises

by predicting filling behavior, shrinkage and warpage

Identify issues

before you build the mold, saving time and money

Try better solutions, virtually
Virtual changes are much cheaper and faster than physical corrections after you've built the mold
Reduce the number of mold corrections, saving costs and time

Collaborate better

with your colleagues and customers, because now you can visualize what will happen, earlier

Get a CADMOULD
trial
license for 99 EUR*
Participate and you are eligible to get a 4-week unrestricted trial version of CADMOULD for 99 EUR!*
If you complete the bootcamp successfully, you have the option to get a 4-week full version of CADMOULD Warp-it! at a test price of 99 EUR. That way, you can try the software on your own projects. During the trial period, you will have full access to our support.
*If you are using CADMOULD via Altair, bootcamp participation is included for free.
Bootcamp contents:
What you will learn in a CADMOULD Injection Molding Simulation Bootcamp
In our plastic injection molding simulation bootcamp, we'll use examples to introduce you the workflow end to end. After completing the bootcamp, you'll know what you need to start your own simulation projects, using CADMOULD!
Use cases for plastic injection molding simulation


Here we discuss how to best introduce simulation into your workflows, and discuss the advantages and limitations of simulation, as well as typical pitfalls during implementation
How to set up and run a simulation:
Here you will learn how to set up and run a simulation in CADMOULD by (1) importing a part as a CAD file, (2) meshing the part, (3) defining one or more injection gate locations, (4) selecting a material, (5) defining the planned process parameters, and (6) launching the simulation. It's simple to do this in CADMOULD -- see this video to see how a simulation can be set up in less than one minute!


How to interpret simulation results and solve challenges using CADMOULD:


We will go through a few concrete part examples, and show how they can be solved efficiently with CADMOULD. We'll deep-dive on how to interpret the simulation results, and how to decide what to do next. Example questions include…

Where should I place my injection gate/s?
Where will hotspots arise? How do I fix them?
Where are weld lines created?
How can I detect air inclusions / burners?
How can I foresee shrinkage and warpage? What can I do about it?

…