More than one...
CADMOULD 2K & Insert enables you to simulate two-component and multi-component parts, as well as inserts.
You can simulate parts that are produced by sequentially injecting different thermoplastics against each other.
You can also work with with inserts made of different materials (such as metal).
If these are techniques you use, then 2K & Insert represents an ideal addition to the modules Fill (simulation of filling), Pack (simulation of packing pressure and cooling phase) and Warp (simulation of shrinkage and warpage).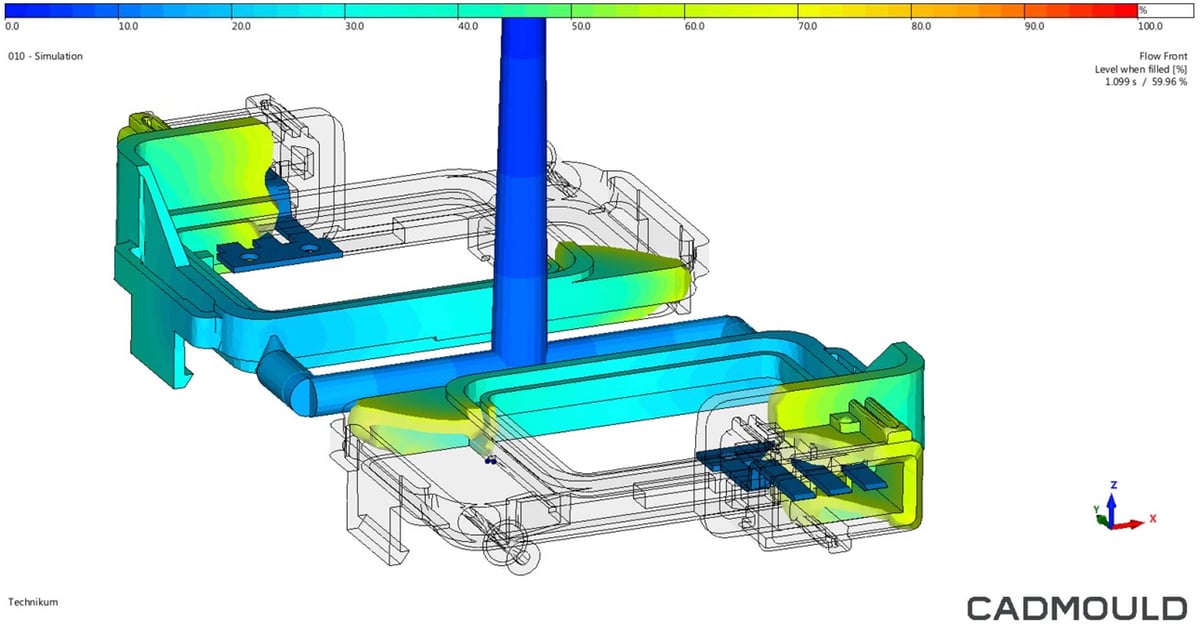 CADMOULD 2K & Insert: Filling of a multi-cavity mold with metallic inserts
Results
CADMOULD 2K & Insert computes the following results:
Filling

of the part (with multiple materials / with inserts)

Pressure

distribution

Temperatures

(also inside the components)

Flow speeds

Deformation

of inserts or core shift during the injection phase (in combination with the Structural FEM module)

Weld lines

and air inclusions

Freezing

, sealing and demolding time

Shrinkage

, for 2K or insert parts

Warpage

Deformation

Mechanical stress

(including frozen residual stresses)
[1] For more details, please refer to the Structural FEM module description.
Deformation of inserts
In combination with the structural FEM module, CADMOULD 2K & Insert can anticipate the deformation of inserts during the filling process.
Benefits
enables you to simulate two-component and multi-component plastic injection molding, as well as inserts.
Optimally design 2K or multi-component processes

Determine and optimize

the thermal and mechanical influence of individual components on the part

Detect and eliminate filling problems

in multi-component parts (air inclusions, weld lines, etc.)

Solve shrinkage and warpage

issues in multi-component parts

Identify ways to reduce the total warpage of multi-component parts
Specify cycle times and optimal preheating temperatures of inserts

Reduce

sampling and

waste

, since the process parameters are already known and optimized

As a result, get a better first-time right rate and reduce costly mold corrections. This results in significant time and cost savings
The simulation results enable you to discuss options, advantages and disadvantages with your customers and colleagues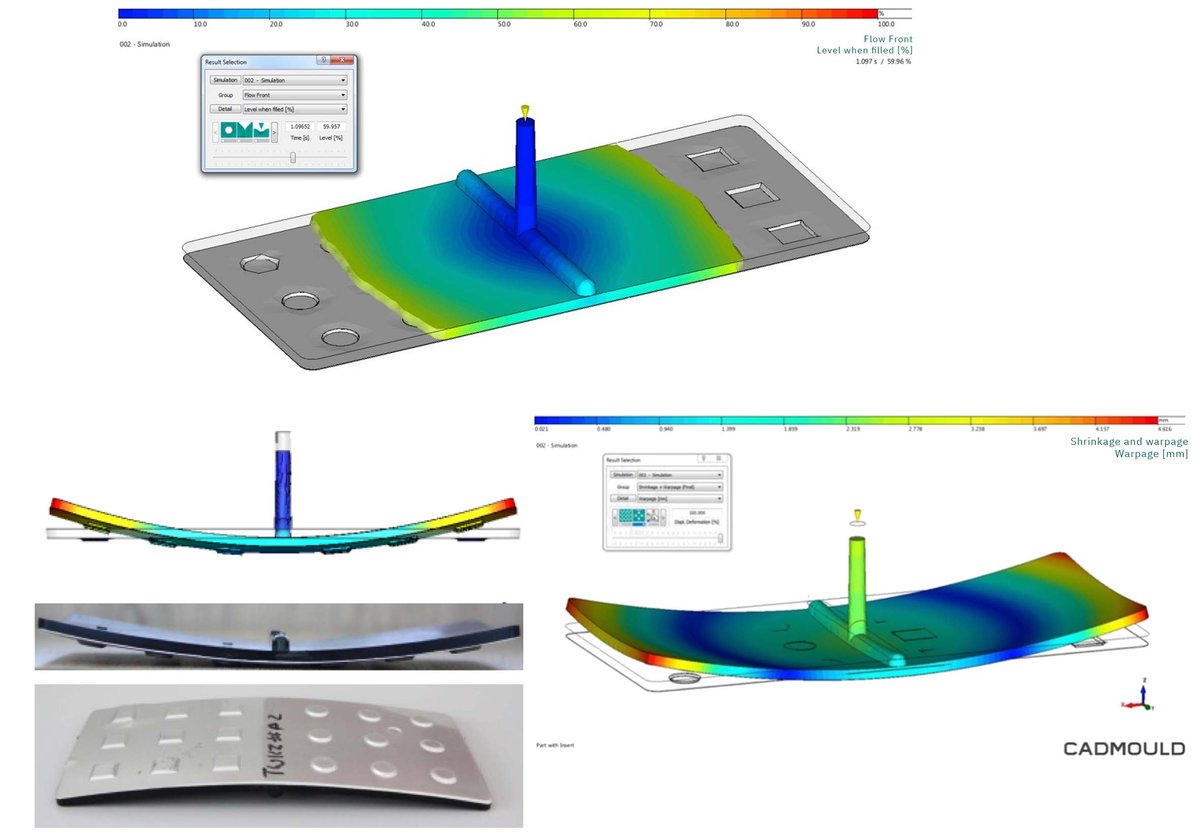 CADMOULD 2K & Insert: In this example, a metallic back panel is overmolded with a thermoplastic polymer. The shrinkage and warpage simulation takes into account the behavior of both the thermoplast and the metallic component.
Packages and other software modules...
CADMOULD 2K & Insert is part of packages Warp-it! and above. If you have a smaller package, you can also purchase or rent the module individually.
Combine 2K & Insert with the structural FEM module to compute insert deformation.