CADMOULD Cool with cooling channels shown around part. This example features both classical and conformal cooling channels (near the center of the part).
Thermal design
CADMOULD Cool will help you to design the cooling system for your part. You can work with both classical cooling channels, as well as conformal cooling.
If you have already constructed your mold in CAD, it's easy to import your designs into CADMOULD for your simulation. And if you have not yet designed your cooling channels, no problem, you can construct them simply and conveniently in CADMOULD.
Results
CADMOULD Cool computes detailed results concerning wall temperatures and the temperature control system.
Number of cycles

to the thermally stable state of the mold

Local variation of cavity wall temperatures during the entire cycle

Flow rate and pressure loss

in the temperature control system

Temperature change

of the tempering medium

Turbulence

of the flow

Temperature control

efficiency
Note: For full mold (as opposed to just cavity and cooling system) thermal simulation, also see our module T-Box
Benefits
Optimal design of wall temperatures in the mold

Safe design

of temperature control systems

Reduced sampling

and less waste, as cooling times are already known and optimized

Design cooling systems

, without needing to go back to CAD

Detect and eliminate hot spots

due to mass accumulation or heat transfer processes in the mold

Optimize cooling systems

that are already in use, by determining optimal process parameters

Reduce cycle times

by optimizing the thermal system for the part and process

Determine optimal cooling times
As a result, better first-time right rate and reduction of costly mold corrections. This results in significant time and cost savings
The simulation results enable you to discuss options, advantages and disadvantages with your customers and colleagues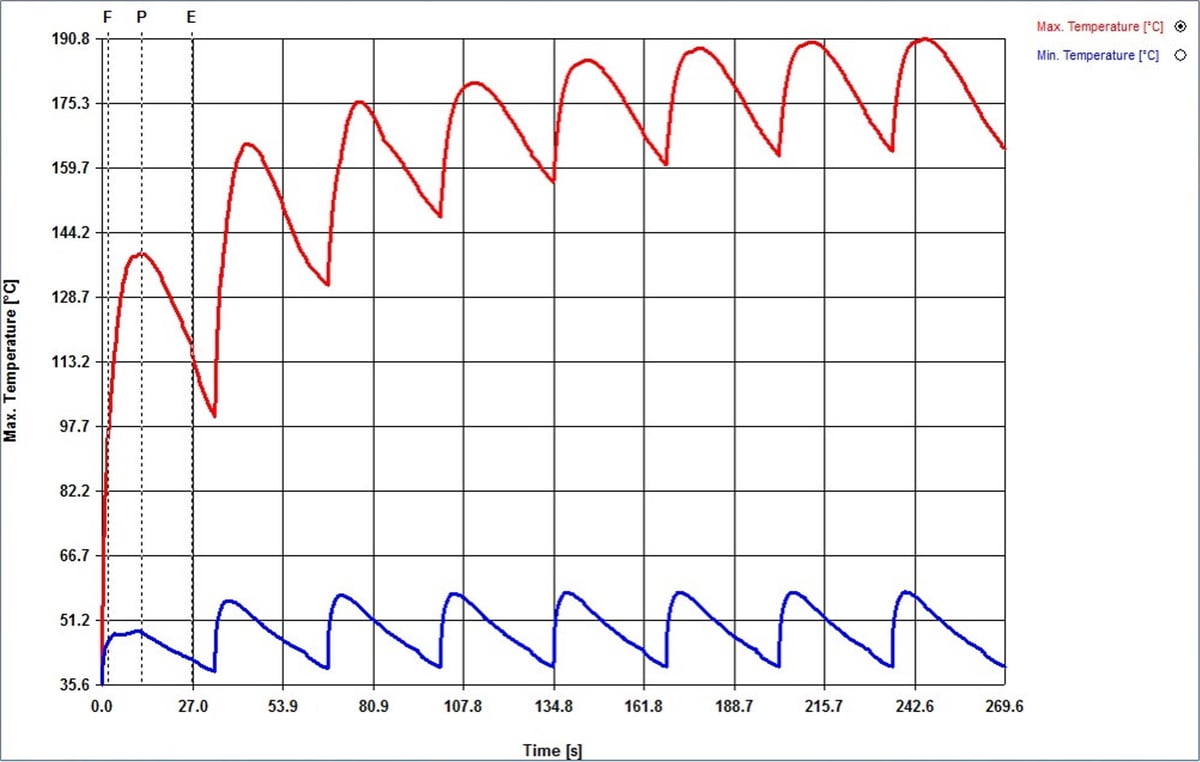 Example results of CADMOULD Cool: The evolution of maximum (red) and minimum (blue) wall temperature, across several cycles
Packages and modules...
CADMOULD Cool is the ideal complement to the Fill, Pack and Warp modules (simulation of filling, packing pressure and cooling phases, and of shrinkage and warpage).
CADMOULD Cool is included in all packages starting with Warp-it! (Though technically, you do also have the option of purchasing it separately.)
READY TO GO?
JOIN A SIMULATION BOOTCAMP!
In just one day, we'll get you up and running, and ready for your first simulation projects.
After the seminar, you'll receive a four-week unrestricted trial version of our software. That way, you can apply what you've learned in the wild, in your first projects.